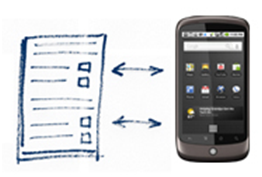 The mobile payments company Square, have announced the Square Register, a point of sale replacement for cash registers and point of sale terminals.
In a previous blog, we pointed out that Square provides a credit card swiping device that plugs into a mobile phone's or iPads's headset/microphone jack.  Following on from this, Square have recognised the need for small businesses to communicate more effectively with their customers.  Historically customer purchase information is stored on the vendor's iPad or mobile phone with the ability to send a receipt via SMS or email.  Now with the Register, vendors can send customers a link to their mobile phone to download an app (iphone only with Android in development).  The app contains credit card pictures for each vendor using Square, and when selecting a card in the app, customers can see information such as a map of where the vendor is located, contact information, orders, purchase history and receipts.  Through the app vendors can send a daily live menu of items or services plus customers can see what others are buying at the store.  Additionally vendors will be able to offer customer specific promotions based on for example their purchase history.
Where the system gets interesting is using the app to pay for items with a single key press, allowing one touch purchasing similar to say, Amazon.  The app also allows customers to see where local vendors are located nearby that also use this system.
For vendors, analytics is also included showing for example what quantity of each item was sold and who to?
All of which can have a major impact on promotional and marketing activity, sales and distribution.
With all the interest in tech for the High Street, who said the High Street is dead?