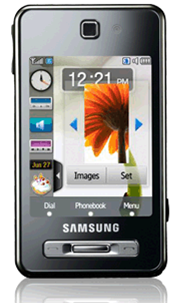 Orange have teamed up with Barlcaycard and a host of high street names to bring the concept of NFC payments to life whilst shopping in the UK.  This means you can walk into MacDonalds, Boots, Subway, Pret, AMT coffee and even Little Chef and make payments using a phone.
The ultimate idea is to replace your wallet with your phone so you don't carry cash and a pocket full of credit cards around with you.  So you can enter one of 50,000 shops that have NFC terminals installed and purchase goods by holding or "tapping" your phone near a reader:
Orange provide the phones and SIM cards
Barclaycard provide credit card finance to top up your phone allowing payments to be made
A phone app can be used for mobile phone top-ups
Additionally Orange will offer NFC tags. This will enable your phone to be topped up by holding a tag near it, or get film or concert information by holding the phone up to a poster.
According to Orange, security is provided through security PINS and "if your Quick Tap phone is misused by someone without your permission, you won't be liable for losses" (subject to you not passing on your account or PIN details).
Whilst we applaud the use of technology there are limitations with this roll out:
Phones and credit cards are restricted to Orange and Barclaycard
The NFC device is the Samsung Tocco and this phone may not appeal to all mobile phone users
How does the technology Orange have launched lend itself to other mobile devices?
We need to wait to see what effect this has at till points as this does not change the process for buying or ordering
How quick it will be for customers to top up if they do not have enough money on their phone i.e. what is the effect on queue time and payment processing speeds?
The most significant points for us are:
It's the purchasing process and type of product bought and sold that has an effect on the supply chain, so how will retailers make use of NFC here?
If NFC speeds up payments how will this affect demand?
Will this innovation drive the use of NFC upstream?
What will this do to help retailers adopt greener supply chains using NFC?